Doc's Bio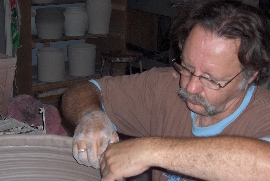 Pottery has always been something I have had the constant desire to do. Back in 1973 I sat up a small studio in Broad Ripple, Indiana, building a kick wheel and a few tools. It didn't take long before the spark of interest began to burn and I knew that pottery would be a passion that would stay with me. Even at times when I was unable to give it the attention it required it was always the creation of pottery that I returned to.
After moving to Whitestown, Indiana in 1976 I opened Woodsman Pottery. Functional stoneware was the main dish, fired in a small oil fired catenary arch kiln. Experimentation with a small wood kiln revealed the added potential of wood ash and flames on the ware. While working part time at Conner Prairie, a living history museum near Nobelsville, Indiana I came to appreciate the rich surface effects achieved using a wood & salt fired groundhog kiln. In 1983 I opened Log Creek Pottery in Paoli, Indiana continuing the functional pottery tradition. It was here that I began work in sculptural terra cotta tile work. Works were fired in a gas downdraft or wood crossdraft kilns.
The spring of 2004 brought me to Leicester, North Carolina to persue,once again, my interests in clay. After building the studio the exterior is being clad in handmade terra cotta tile work, serving as a sample of architectural clay possibilities. A range of functional stoneware, Ceramic pieces for garden & landscapes as well as decorative tiles fill my days with creative possibilities as I continue my pursuit of handmade pottery.